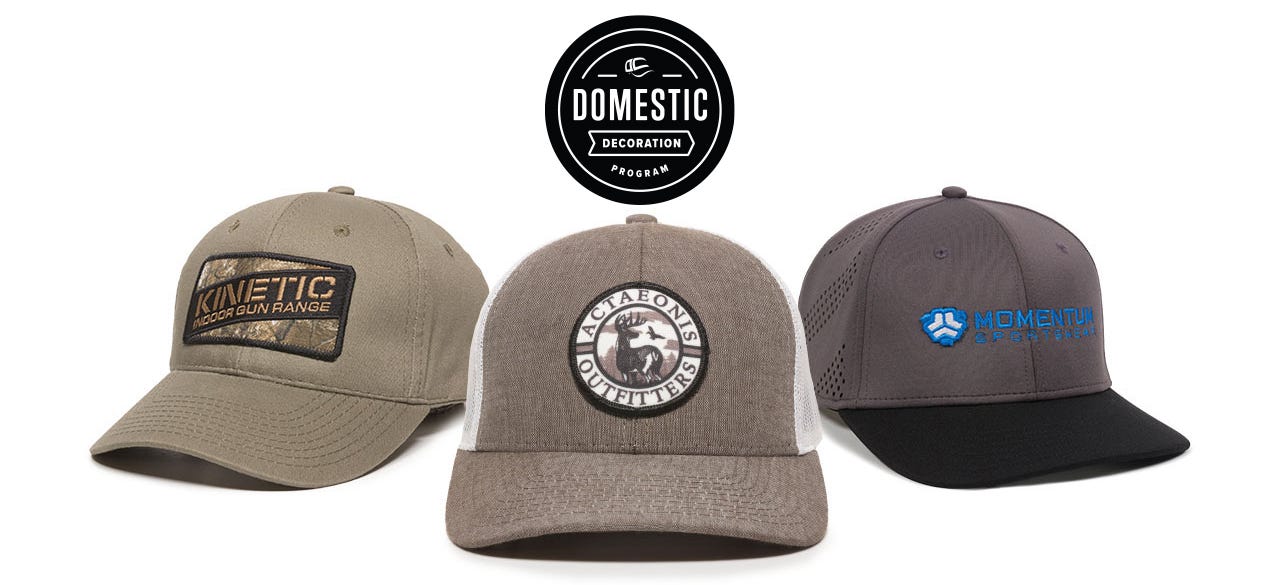 Embroidery Guidelines
Embroidery Placement & Size
Minimum Order
48 pieces per cap style/color/logo A $40 (A) charge will be applied to orders less than 48pc. Absolute minimum quantity is 24pc. Orders can be split 24/24, as long as logo is not changed. A $40 (A) charge/line will be applied for thread/size/location change to the logo.
Artwork & Sample Approval Process
Sample Approval: Choose from the options below.
1. Receive a proof via email for quicker approval.
2. Receive a physical cap sample in the mail.
Note: Vector art REQUIRED with logo specifications/PMS colors to
ensure timely delivery of sewout. Art sent in a format other than
vector may require additional time.
Digitizing services are free and no set-up fees required.
For our most up-to-date lead times visit our status page.
Price
$4.50 (A) for up to 12,000 stitches for the front art.
Add $2.00 (A) for side logo (right or left), up to 5,000 stitches.
Add $2.00 (A) for back logo up to 5,000 stitches.
Add $2.00 (A) for 3D logos (front location only).
Additional stitches at $0.40/1,000 (A) stitches over each minimum location charge.
Patch Guidelines
Patch Placement
Patches can be placed front center, front left and front right corner locations of cap (click here for details)
Additional direct embroidery can be placed according to the embroidery placement & size chart shown above.
Minimum Order
48 pieces per cap style.
May split 24/24 if using same patch and same cap style.
May order additional patches to accompany an order.
Additional patches must be the same patch as applied to the cap order.
For our most up-to-date lead times visit our status page.
Price
Embroidered Patches: $9.00/each (A)
Sublimated Patches: $9.00/each (A)
Leather Patches (100% genuine leather & faux leather): $10.00/each (A)
Leather Custom Shape Patches (heat sealed only): $13.00/each (A)
Application
Heat Sealed: Add $1.00/each (A)
Stitched: Add $2.00/each (A)
Additional Program Details
Artwork Details
Direct Embroidery and embroidered patch art files need to be in vector format (non-vector art will require additional lead-time to receive virtuals), Adobe Illustrator (.ai), encapsulated PostScript (.eps) or scalable vector graphic (.svg). Please provide size and PMS color specifications with artwork submission. Digitizing services and set up fees are free. Creating vector artwork will increase lead time and design time. Accurate re-creation cannot be guaranteed. Outdoor Cap reserves the right to alter a customers' file to deliver a quality product. Outdoor Cap will match PMS with closest matching thread and may need to alter the artwork to best fit the decoration space or decoration technique.
File Format
Embroidery and Fabric Patches: Vector art in .ai, .eps or .svg format is required. JPEG, DST or other non-vector file types will increase the lead time for sample sew out or virtual due to artwork vectorization.
Accurate re-creation cannot be guaranteed.
Sublimated Patches: Vector file in .ai, .eps, .svg or raster file at least 300 dpi in .jpg, .gif, .png, .tif, .psd or .bmp format.
Leather Patches: Single color vector art in .ai, .eps or .svg format.
Production Delivery
All shipments are FOB - Bentonville, AR.
Orders must be sent via email.
Every effort will be made to ship exact quantities as ordered.
Over/under run rate of 5% is standard on all embroidered orders.
Orders over 720 pieces may require additional days.
For our most up-to-date lead times visit our status page.
Drop shipments up to 6 locations are free, additional locations will be charged $2.50/location (A).
Minimum of 12 pc. per drop ship location.
Changes & Cancellations
Changes to an order in process may be made if customer agrees to any applicable charges incurred and acknowledges delivery date will be extended.
No cancellations are accepted after order has entered into production.
---
Resources
Your Guide to Patches
Learn More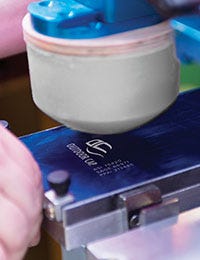 Domestic Tagless Labeling
View Now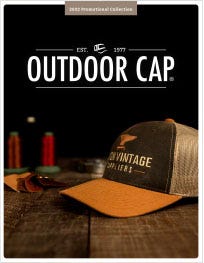 2022 Promo Collection
View Now
---
Ready to place an order?
For promotional products distributors or decorators:
If you are interested in custom caps for your business or organization:

Find an Approved Seller ›